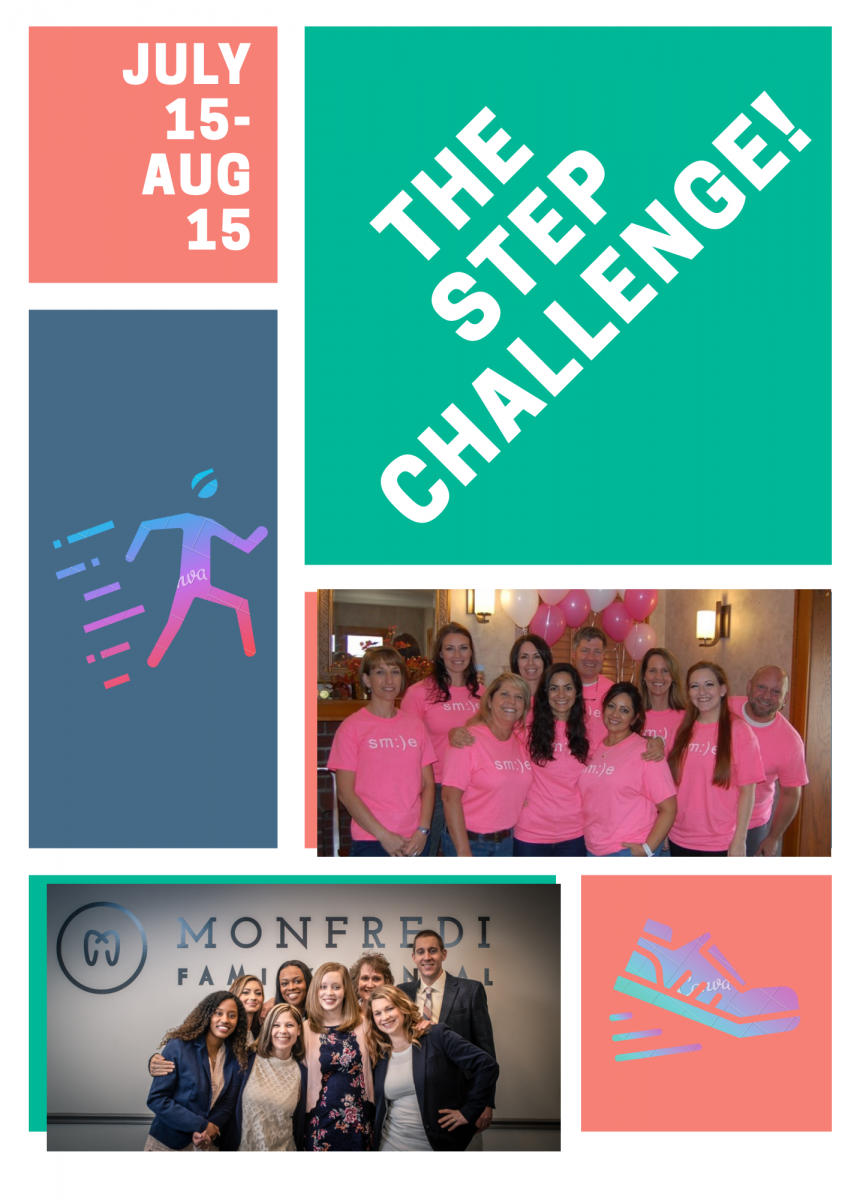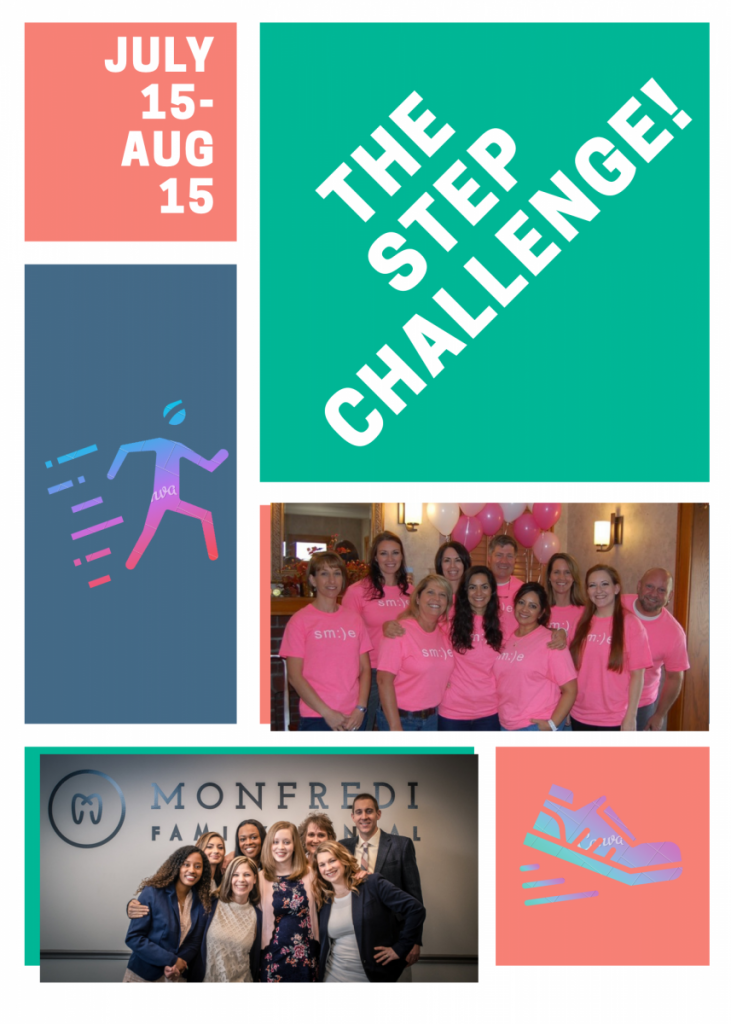 Summer Step Challenge
Yoga in the lobby, circuit training in the back office, and even Zumba in the early mornings… Here at Monfredi Family Dental, we've tried them all. And sure – we love doing things like this for the fun of it, but honestly, we're a Team who's interested in pursuing a higher level of fitness. 
During our days, that improved fitness starts with your oral health, no doubt, but we're also very interested in other ways to improve strength, endurance, and flexibility. And with that mindset, we've always got an eye open on possible health-promoting events (i.e. 5k's, volleyball tournaments, etc…).
We've had a quick morning huddle about most of these. 
But we've seen that not everyone can participate in a 5k or a volleyball tournament. So to get everyone involved and to help promote a more healthy lifestyle for as many as possible, we started kicking around the idea of an MFD step challenge. 
And on the day we were discussing this step challenge idea, Jeanne from Wade Orthodontics had just walked into our office.
A bit about our friends at Wade Orthodontics
We work quite a bit with Dr. Wade and his team over at Wade orthodontics. We refer many patients to their offices, talk on the phone regularly, and take a few opportunities to visit each other's offices exchanging information or other items. After all, we're only a mile away! 
So, when Jeanne walked in that day and started asking about the details of this 'step challenge' idea, we went and did something crazy…
Step Up to the Wade Orthodontics / Monfredi Family Dental Step Challenge!
As it turns out, there are a few fitness fanatics over at Dr. Wade's office. And as soon as Jeanne got back to their office, she relayed the news of our challenge and sent us a text back confirming, "We're in!" 
Here's what we're doing with the Step Challenge
Wade Orthodontics will be competing against your very own Monfredi Family Dental in a no-holds-barred cage match of epic proportions! 
Jkjk…
Over 32 days from July 15 (this past Monday) until August 15, we will be adding up our steps – one office against the other – to see which is the Step Champion for Summer 2019! 
For those detail folks among us, here's how we'll do it
All Team members who wish to participate from each office will compete for the entire 32 days (right now we have all

10

from Team Wade and 6 of us from MFD)

Each day, one Team will add up their total steps for the day and calculate an average 

If 6 people walk a total of 60,000 steps for Team MFD – our average for that day would be 10,000

Monday's total will be added to Tuesdays, and so on until the end of the challenge
But don't worry – we're not hogging all the fun for just ourselves!
Here's where YOU (our patients) can come in
First – Each Friday, both teams will post an update for the past week on our Facebook pages (Here is Team Wade's page and here is Team MFD's, head over and like our pages to stay up to date!). We'd love to have you follow along and cheer us on!
And second – Yes, we're competing in this challenge to help each of our Team's get more active this summer, but we're hoping to have a few other benefits as well. Here they are:
We're hoping to get a few of you motivated to join in with us!

We'd love to have any of you comment on our Friday posts about your step numbers for the previous week, 

We're hoping to use this challenge to gain more knowledge about health and fitness so that we can pass that on to you during your visits to our offices,

And we're playing for something…
The Stakes!! (like "high stakes" not "steaks" that you eat… One of our Teammates asked)
Two things will be up for grabs during this challenge. 
The losing team will host the winning team for either a potluck lunch or a happy hour at a mutually agreed upon establishment (and while MFD's office was a bar/night club in a previous life, it's good to have options).
Each Team will choose a charity that they care about deeply, and both teams will make a small monetary donation to the winning Team's charity at the conclusion of our Step Challenge. 
Team Wade will be competing for

Lettuce Work – a 501c3 organization helping adults with autism. 
Team MFD will be competing for March of Dimes – "Vital services for moms and babies, especially babies born sick or too soon."
If you'd like to learn more about each Team's roster, we've got you covered!
The only thing left to say is…