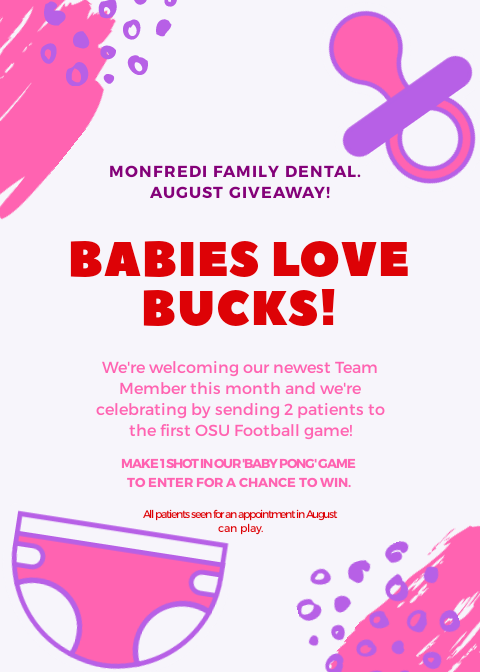 So, for our promotion this month, we've decided to send 2 lucky patients to Buckeye Football's opening day (August 31)!
For those who don't know, here at Monfredi Family Dental we like to run some type of giveaway each month as a way to say "Thank You" to the awesome patients we're fortunate to have.
In the past, we've given away flowers to moms in May, gift cards, back to school supplies, seasonally-themed baskets, and a whole host of other "Thank You's".
And while this month is no different, we've decided to go big for a couple of reasons
We really love football season… Well, autumn in general and all the awesomeness it brings (amazing colors, great sports, cool crisp air, and yes – even the PSL…)
We're welcoming our newest MFD Team Member this month! One of our original Team Members (Rachel) is bringing her 3rd baby girl into this world sometime soon!
And in order to properly welcome the season (and our new addition), we're excited to send 2 of our awesome patients to the game on August 31!
All you have to do is have an appointment at our office this month and participate in our "Baby Pong" game. And each participant will be entered for a chance to win!
Stay tuned to our Facebook page to keep up to date on this and other relevant MFD news, and have a great August, all!
-MFD