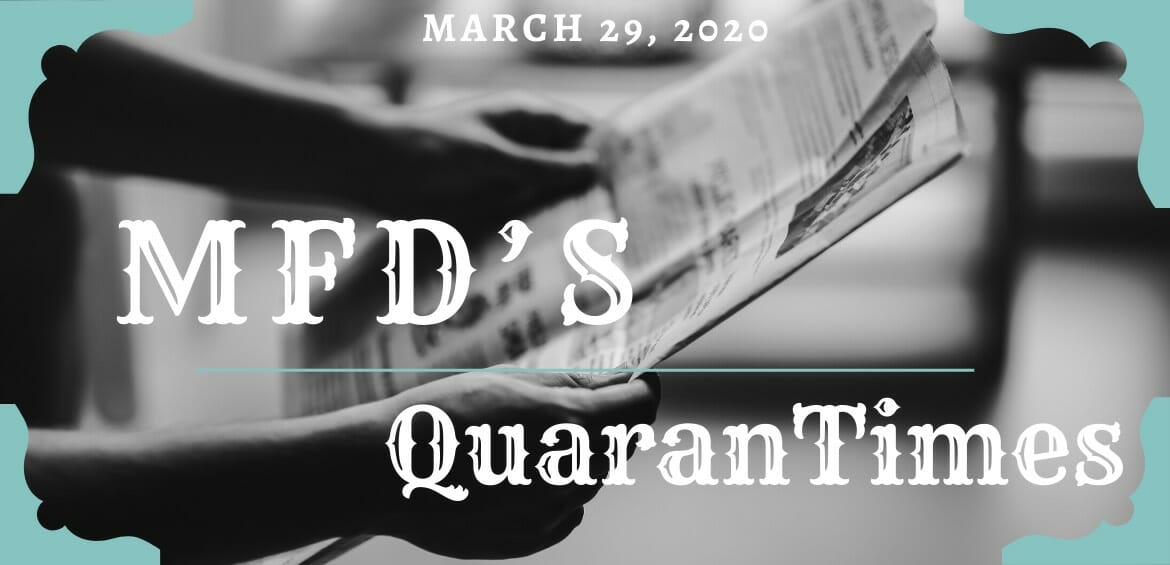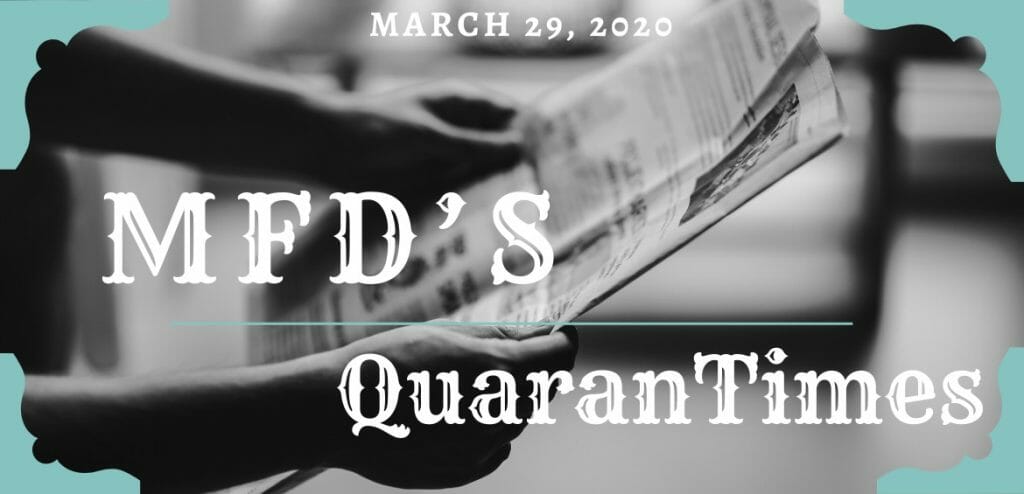 MFD's Weekly QuaranTimes – March 29 (Video & Blog)
Well, I don't know about you but when I originally read this article (that we shared with you last week) – Coronavirus: The Hammer and the Dance – I hadn't quite prepared myself for a month-long hammer. Never mind the fact that Tomas Pueyo, the author, gave us all the heads up that the 'hammer' portion of flattening the curve can last weeks or months. So perhaps my wife (Dr. Monica) was right the previous 792 times she suggested I read the full directions before beginning assembly on the _______ (swingset, cabinet, bookshelf, etc.). You were right, ma'am. 
But in this 2nd week of self-isolation and mandated quarantine, we're finally starting to settle into our new normal as a business as well as our individual families. And while we fully understand the need to physically isolate and flatten the curve, enacting this practice still feels completely foreign to us. Yet we press on. 
This week, Ohio's Governor (Mike DeWine) told us that the planning phase to combat COViD-19 is coming to a close and that it's now time to push down the accelerator on actually fighting the surge. This experience seems to apply to our business and personal lives as well. So below, we're going to share with you much of what we've planned to enact moving forward to make MFD the safest and best office it can possibly be for all of our amazing patients. Because one day will actually be "The Day After" and when we all get back to work and somewhat of a normal life – we want to make sure that any questions you have are already addressed and answered through a blog post, new policy, or some training we've attended during this downtime. 
We've been working hard behind the scenes to make sure that MFD is ahead of the curve with all of the new Coronavirus-related policies and techniques. And we're also using this time to get ahead on training opportunities and streamlining the unique patient experience our Team prides ourselves on. 
Some of what's below in this week's QuaranTimes
Updates to MFD's Infection Control protocols and internal structure
A recap of all the relevant Coronavirus news

straight from our governor and Dr. Amy Acton

Ways to get in touch with us at MFD

– whether you have a dental question, need to schedule an appointment, or want to share a funny meme about a 'rager' of a 4-person birthday party 
Personal updates from some of us at Team MFD
Hopefully, a little humor to help brighten up your day!
But before we dive into our week, let's catch up on the COViD-19 related news that impacts us all
March 23 – Gov. DeWine ordered a hiring freeze for all state agencies under the governor's command. He also instituted measures to cut state expenses to prepare for the economic downturn on its way. Also – all non-pandemic-permitted childcare centers were ordered to close… Welcome to your new role as a SAHP (stay at home parent) – see our 'home school schedule' below
March 24 – Positive COVID-19 tests eclipsed the 500 mark and our leadership urged us to keep up the fight by… just staying home. A sneaky-dangerous yet simple request. 
March 25 – With personal protective equipment (PPE) in short supply, Dr. Amy Acton and other health officials are thinking outside of the box to get more. And while those of us at home are settling into self-isolation, many healthcare workers across Ohio are bracing for an expected surge of patients to crowd (and hopefully not overcrowd) our hospitals. 
March 26 – On what would've been opening day for Major League Baseball, Governor DeWine sported his Red's tie (Indian's are scheduled for tomorrow…) and talked about the importance of adhering to the "stay-home order". He mentioned that actions are being filed against businesses who are not complying, and Dr. Acton informed us that the measures we're putting in place are actually making an impact – and flattening the curve. The two mentioned that our "surge" has now been slightly diminished and pushed back to the end of April or early May.
March 27 – The planning phase is now over as Governor DeWine indicated that, "…It's time to move into a very high gear, put the accelerator down, and begin building…" He was referring to new hospital infrastructure and capacity as the surge to come is estimated to be 2-to-3 times more patients than our current system can handle. DeWine also mentioned that our peak surge should be expected to end in mid-May. 
March 28 – Governor DeWine went to the center of the ring and stood toe-to-toe with the FDA, local and national companies who produce personal protective equipment (PPE), and the citizens ourselves in what seemed like a final plea to help best prepare our healthcare workers for the surge of patients beginning to crest on our horizon. DeWine and Dr. Amy have done their best to inform and prepare us Ohioans about our choices and our future over these next few weeks, but as they said themselves – the time for planning is over. Now we move to put that plan into action. 
March 29 – Both DeWine and Husted (Ohio's Lieutenant Governor) clued us all in on the fight they've been having with the FDA over the past week. Batelle, a company with a huge impact in Ohio has pioneered new technology that can sterilize up to 80,000 masks per day. In a world where masks and PPE for our healthcare workers are in dire need, the gentlemen believe (and I agree) that this new technology needs to be implemented ASAP, providing the technology does work well. This is another example of why buying time and pushing back our surge is so important – we have the ability to create new weapons in this fight with technological advances every day. Time = innovation and new weapons, and that's why flattening the curve and pushing back the surge has been such a focus.
I've been so impressed with the difficult choices and level of information shared that I've actually joined a "Dr. Amy Acton Fan Club"
And I'm not even a bit ashamed. In uncertain times, we should all put our trust in female doctors who go by Dr. (insert first name here)… Dr. Monica agrees. 
But in all seriousness, we wish you all health and wellness during this week ahead. It seems like the eye of the storm is fast approaching with our local Coronavirus pandemic, so keep up the great work on physical distancing, hand washing, and hygiene. As Dr. Amy said earlier this week, "The efforts you're all making are paying off in flattening our curve."
Some fun (and informative) MFD news from last week
We're thrilled to share our second installment of Teeth Time with you today! Here, Edith gives us some great tips for improving oral and overall health during the quarantine. Let us know if you enjoy our videos and subscribe to our YouTube channel so that we can keep these coming!
MFD's availability during the quarantine
Through this week, we've had all phone calls forwarded to Mike's cell phone, and while he's working to get back to voicemails and texts in a timely fashion, it hasn't been the most efficient system. Next week, we're going to have someone dedicated to answering phones and making calls for at least a couple of hours each day, Monday – Thursday. The emergency line is on our voicemail and as always – if you need it, feel free to reach out. But we're happy to report that our gradual ramping up process begins Monday next week!
New changes to our Infection Control structure and practices
We will share a separate blog post about this later next week but for now please join us in congratulating Rachel – our EFDA (Expanded Function Dental Assistant) – on accepting her new additional role as MFD's Infection Control Coordinator! 
We'll have new policies and updates to share with you next week (and further in the future) but please know that all of Team MFD, most especially Rachel, are working hard behind the scenes to make MFD the best when it comes to infection control. 
MFD is going digital during the quarantine
Ciera, one of our RDHs (Registered Dental Hygienists) set us all up on Google Hangouts before we said "See ya later" in person and started our quarantines. And we've been taking advantage of all this new technology to have some fun, stay in shape, and share vital news with each other. 
Here's a rundown of last week!
Monday – our 'Home School Schedule' went live and was met with – "8 sets of eye rolls, 2 supportive fans, and a 5-year-old searching for more screen time!!" (That's in the tune of 12 Days of Christmas if you missed that). You be the judge…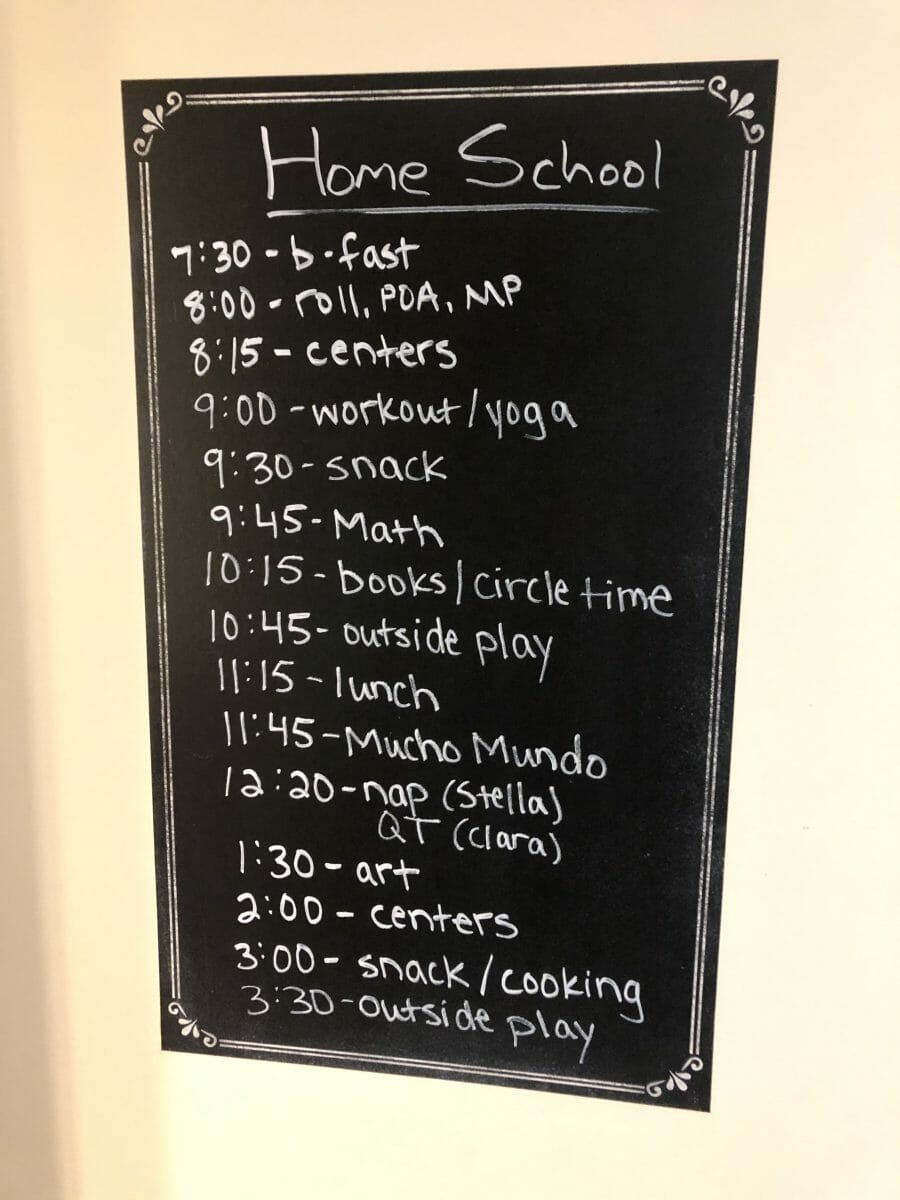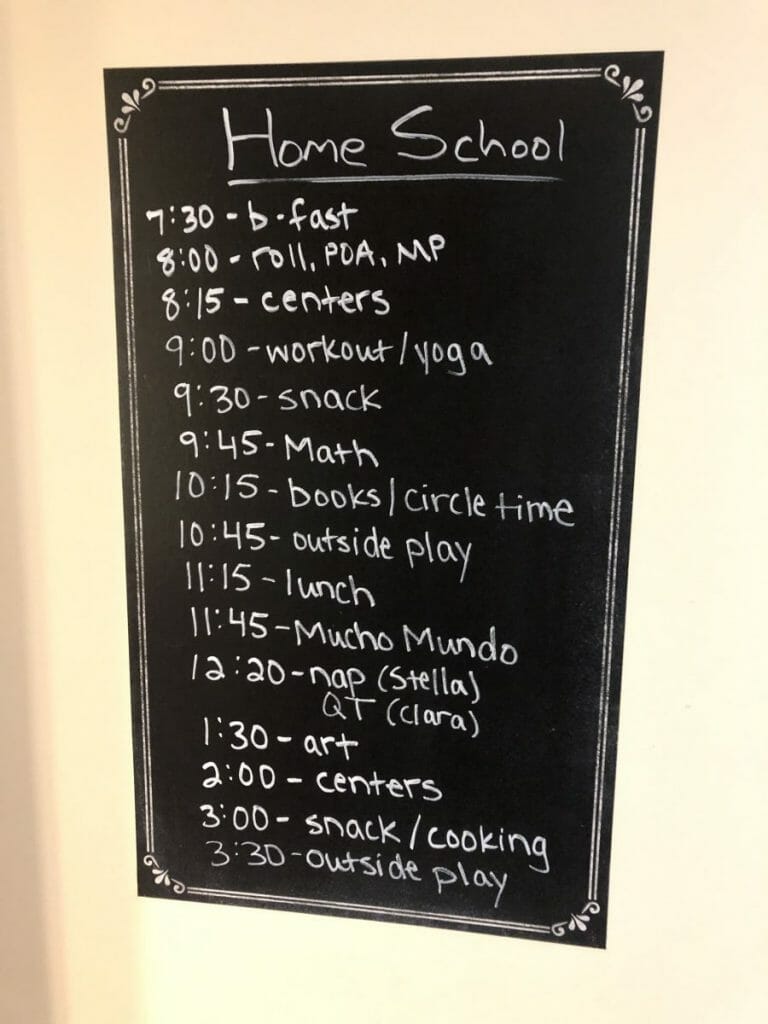 We've since relaxed that schedule…
Tuesday was Dr. Monica's birthday!! We had such a great party and with the weather warming up – we even had a chance to get outside and enjoy some fresh air! Here are a few pics from our festivities!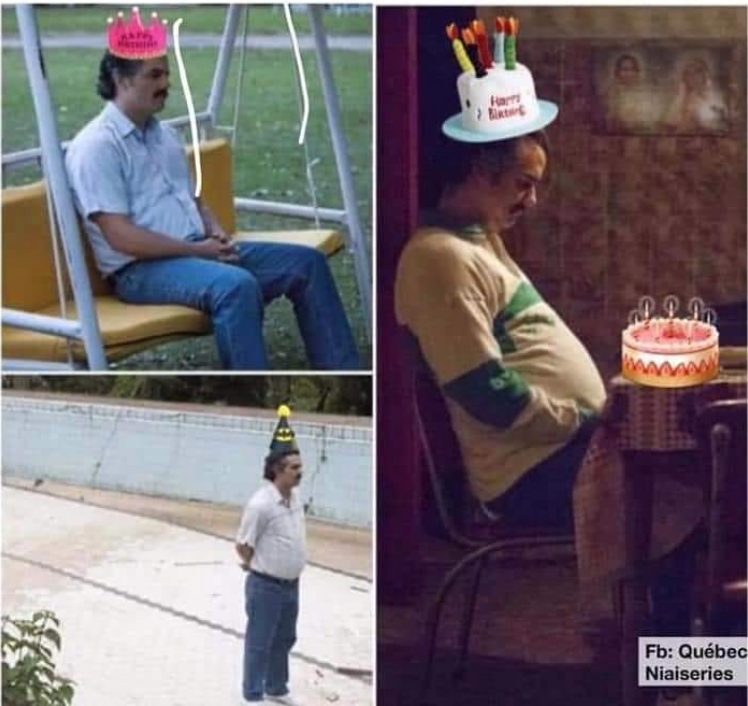 Ok – so there wasn't a huge party but Dr. Monica did enjoy spending her day with the girls and Mike, FaceTiming some family and friends, and there was a rumor about breakfast in bed… We'll work on confirming that story for future QuaranTimes articles. 
Here are the actual pictures 😉 
Thursday – We took our Team workout to our respective 'gyms'! There were bedrooms, basements, garages, decks, and locations undisclosed, but one thing's for sure – Mike picked a workout that was a bit too aggressive… He promises to do better and scale it back a bit next time (in 2 weeks…).
Friday – We had an hour-long meeting about some of our new infection control protocols and some changes that will result from this COViD-19 pandemic. There's much information to digest and still much to learn, but we were thrilled to get everyone up to speed on where we currently stand. As we said above, there'll be plenty more updates coming before MFD's grand reopening – which we are anxiously awaiting. As soon as we know when that date will be, we'll 100% let you know too!
We got some great feedback about last week's personal updates, so we kept the trend going this week as well! Here are some MFD takeaways from the week that was! 
Dr. Monica (Doctor and fearless leader) – A quarantine day is not a good day to wear white… She made pasta with meatballs and her shirt showed it…
Mike (Office Manager) – I thought regular life was busy, but this managing a team through a pandemic and having everyone scattered in different locations brings with it some new challenges. It's times like these that I most appreciate having the best dental team east of the Mississippi!
Briana (Dental Assistant) – I've officially never been this bored in my life… Until now.
Ciera (Registered Dental Hygienist) – I applaud all the moms out there because being a temporary mom is fun and a workout lol (she's currently being a saint and helping care for young infant twins because of some complications at birth… and getting a workout/education in the process)
Rachel (Expanded Function Dental Assistant) – I'm running out of home projects…
Katrina (Front Office Specialist) – Being able to be home and spend quality time with my littles has been super rewarding. I just wish they'd stay away from the fridge lol
Ricardo (Chairside Dental Assistant) – On my first official day there I was notified that we would be closing for some time not sure when we would return, so I was thrown for a loop there. Besides that, I'm excited to be the new member of the team! (We're excited to have him as well and we're still working on his bio page – stay tuned! – Mike)
Talk with you next week!
We hope that you've enjoyed this version of Quarantimes! Stay tuned next week for more updates, but for now – feel free to leave any comments or questions below, and if you enjoyed our update, we'd love it if you'd share this post with a friend. Thanks all and stay safe this week!
Talk soon,
-MFD