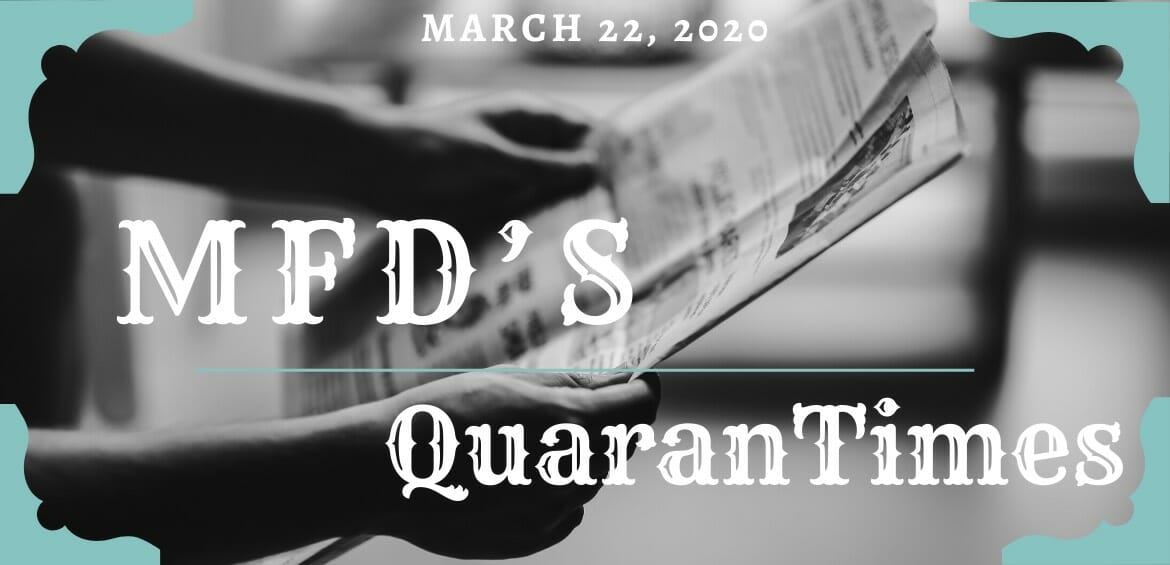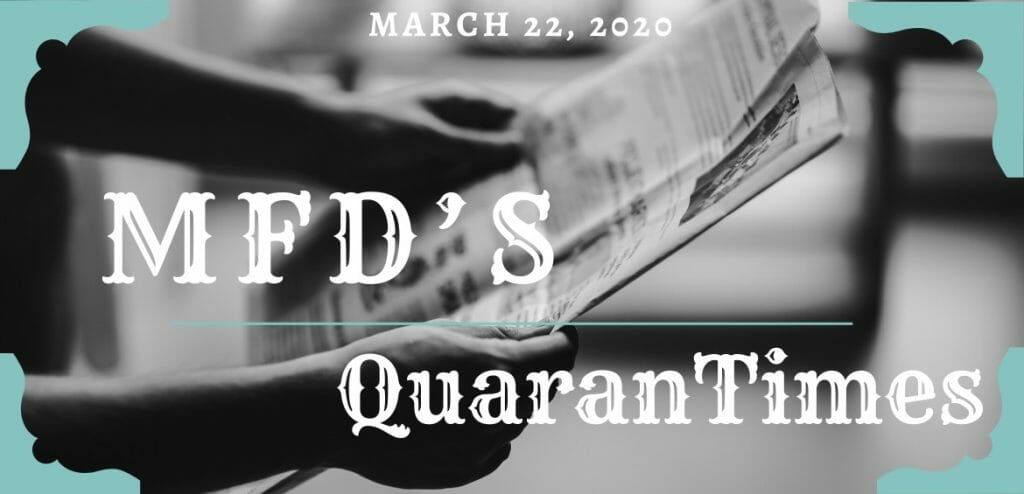 MFD's Weekly QuaranTimes – March 22
Well, hello there friends! We're about a week into a combination of social isolation as well as MFD only being open for "emergencies" – we're basically only triaging over the phone at this point, and we're missing our patients! Anyhow, more on that to come in our new weekly newsletter. But since we've been isolated, I wanted to create a little way for us to stay connected, up to date, and hopefully bring a bit of entertainment to the quarantine. Are you in? Sweet – let's do it!
Last week's news
Authorities, led by our governor Mike DeWine, gradually stepped up restrictions and orders throughout the week, which seemed both like an eternity and a millisecond all at the same time. Us Ohioans learned all about curves and the importance of flattening them. We stocked up on TP, canned goods, and pasta. And some of us worked overtime in an attempt to earn our Facebook-issued epidemiology degrees. But probably the most important thing we learned was what it's like for our country – and our state – to come under attack. 
Not like the wars of previous generations, but against a "Silent killer" as Mike DeWine put it in the form of a highly contagious and concerningly deadly virus. For us, at least, this week was equal parts humbling, concerning, yet at times strangely joyful. 
Here's a quick recount of last week
March 14 – DeWine and Dr. Amy Acton (Ohio's Director of Health for the Ohio Department of Health (ODH)) recommended postponing all elective surgeries. 
March 15 – Bars and restaurants were closed in what seemed like the first real gut punch to our economy. However, as a happy aside, to-go margaritas became a 'thing'. 
March 16 – DeWine banned gatherings of more than 50 people, which was yet another step forward when many other leaders were hesitant to move quite as quickly or as drastically. 
March 17 – All elective surgeries were ordered to be postponed. 
March 18 – Ohio's Bureau of Motor Vehicle locations were all closed, save for 5, so that more CDL licenses could be issued to get our vital supplies to our hospitals, stores, and people in need. 
March 19 – Governor DeWine signed an active duty proclamation to activate 300 of our National Guard to help aid in humanitarian efforts. 
March 20 – Senior citizen centers were ordered to close by March 23. 
March 21 – Adult day service centers who saw more than 10 people at a time were closed. 
March 22 (earlier today) – Dr. Acton issued a 'stay-at-home order' restricting travel for all except for essential employees and for all people who need medical care, supplies, etc. 
The week's news came at us fast and was unrelenting
But all of it, no matter the politics, was done by Gov. DeWine and Dr. Acton with one goal in mind – "To save lives". 
There's a great article that I've read recently that describes very well what an appropriate Coronavirus response should look like. 
Read: Coronavirus: The Hammer and the Dance – by Tomas Pueyo
Last week was unmistakably the start of our "hammer". And what's to follow in the coming week(s) will be the remainder of that hammer, where we deliver one huge blow to the spread of this virus. Knock it back, so to speak. 
Yet, it's the "dance" that has many of us concerned and curious. As Pueyo put it, "Go hard right now. Order heavy social distancing. Get this thing under control. Then, release the measures, so that people can gradually get back their freedoms and something approaching normal social and economic life can resume."
In the week ahead, MFD will be hard at work to figure out what that "dance" will look like for our office and our patients
Much like Ohio was relatively quick to implement strong social distancing and other measures, MFD was among the first to begin screening patients over the phone as well as taking forehead temperatures of all patients (and guests) in the office. 
Here's our post from March 3 describing our new screening. 
And here's our post from March 13 outlining forehead temperatures as well as other measures we've implemented.
Then, when we received guidance that all non-emergency procedures should stop, we made the tough call to begin triaging emergencies over the phone and to gradually keep our Team at home. It's a difficult decision to make, but one we felt necessary until we could gather more information to make sure our Team and our patients are as safe as possible. 
The new normal for our next 2 weeks
We're having all of our calls forwarded to Mike's cell phone until we're back in the office (planned to return on Monday, April 6). The goal here is two-fold. We want to make sure those with true emergencies can still get the care they need, but at the same time, all of our other awesome patients still need to make appointments and ask questions. So if you don't get through right away, please leave a message or send a quick text and we'll get back to you ASAP. 
Dr. Monica and Mike will also be balancing some other new normals at home too.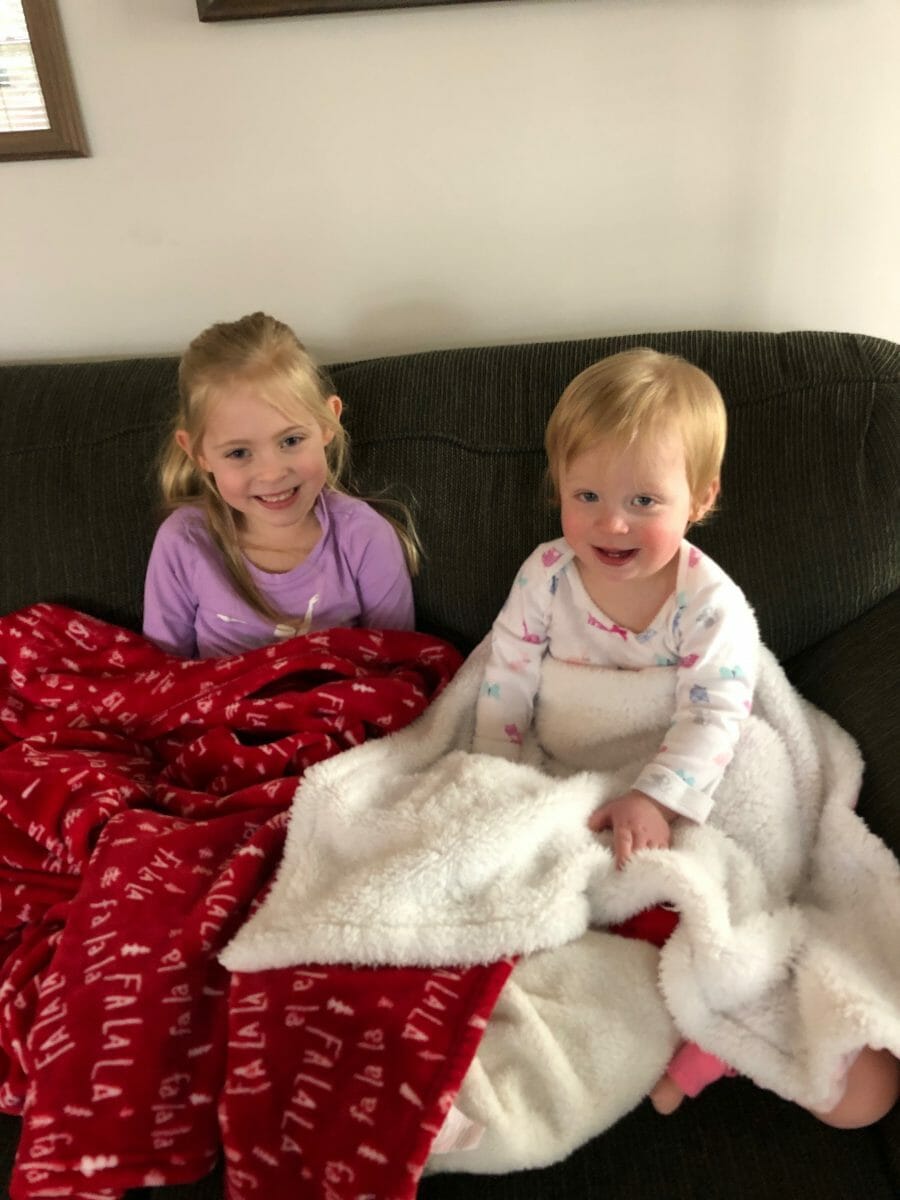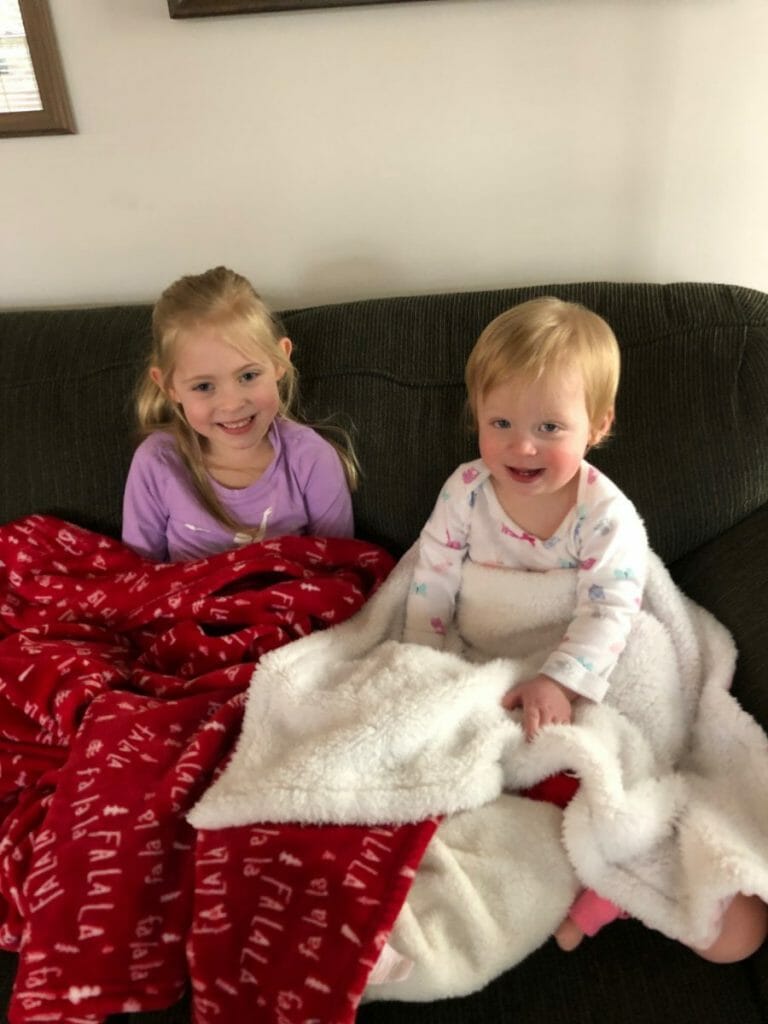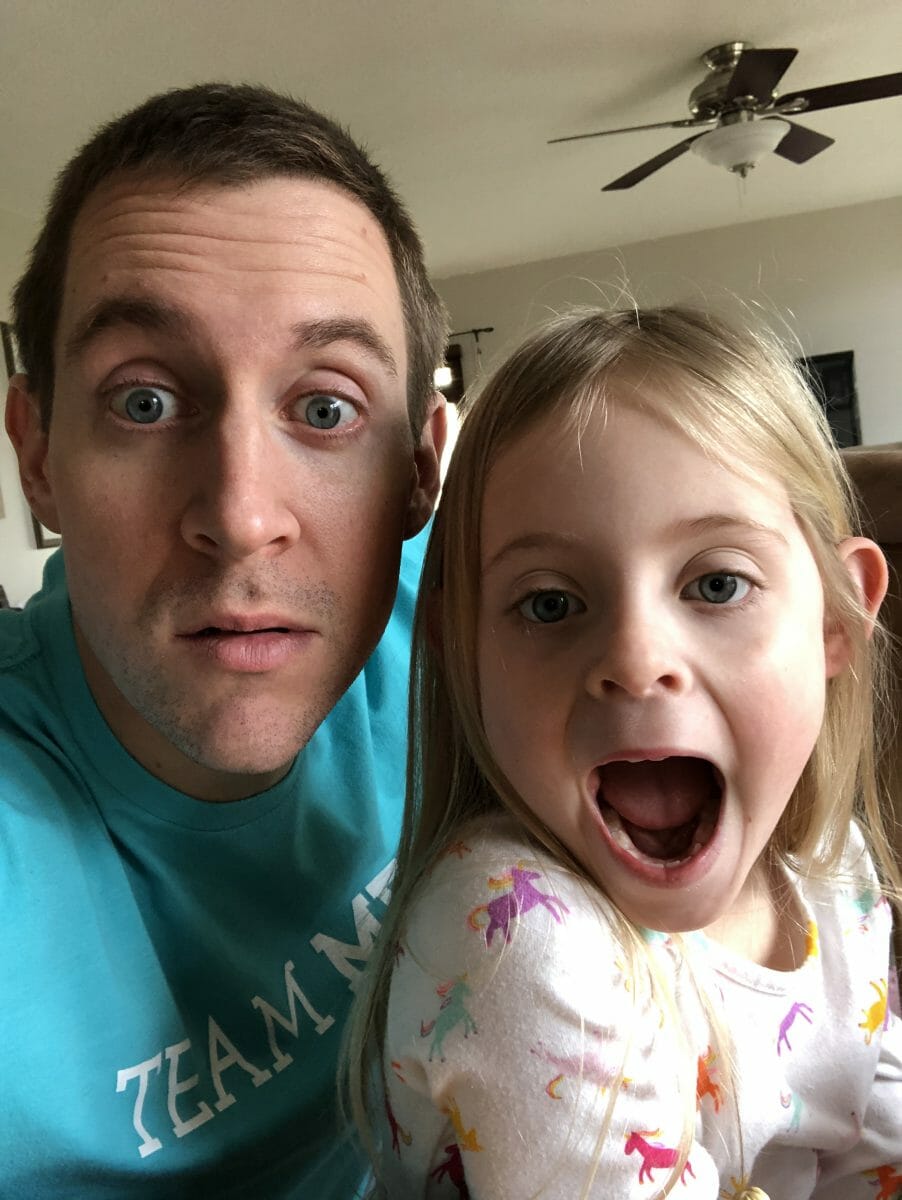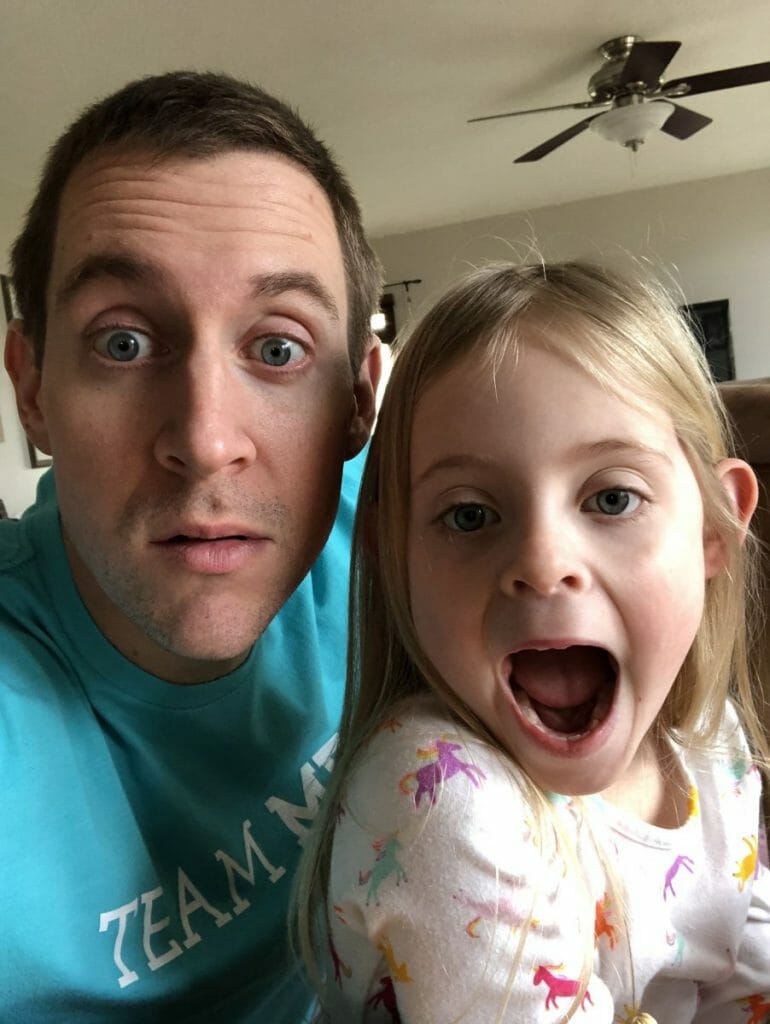 Our girls love to help with patient calls and appointments, but they also love snacks, books, games, and all the attention they can get (and so deserve)! If we don't answer right away – we'll respond soon. 
How's home life treating Team MFD?
We say we're very much like a family at MFD, and we mean it. In times like these, we're missing the rest of our work family. But no worries – we've been staying in touch!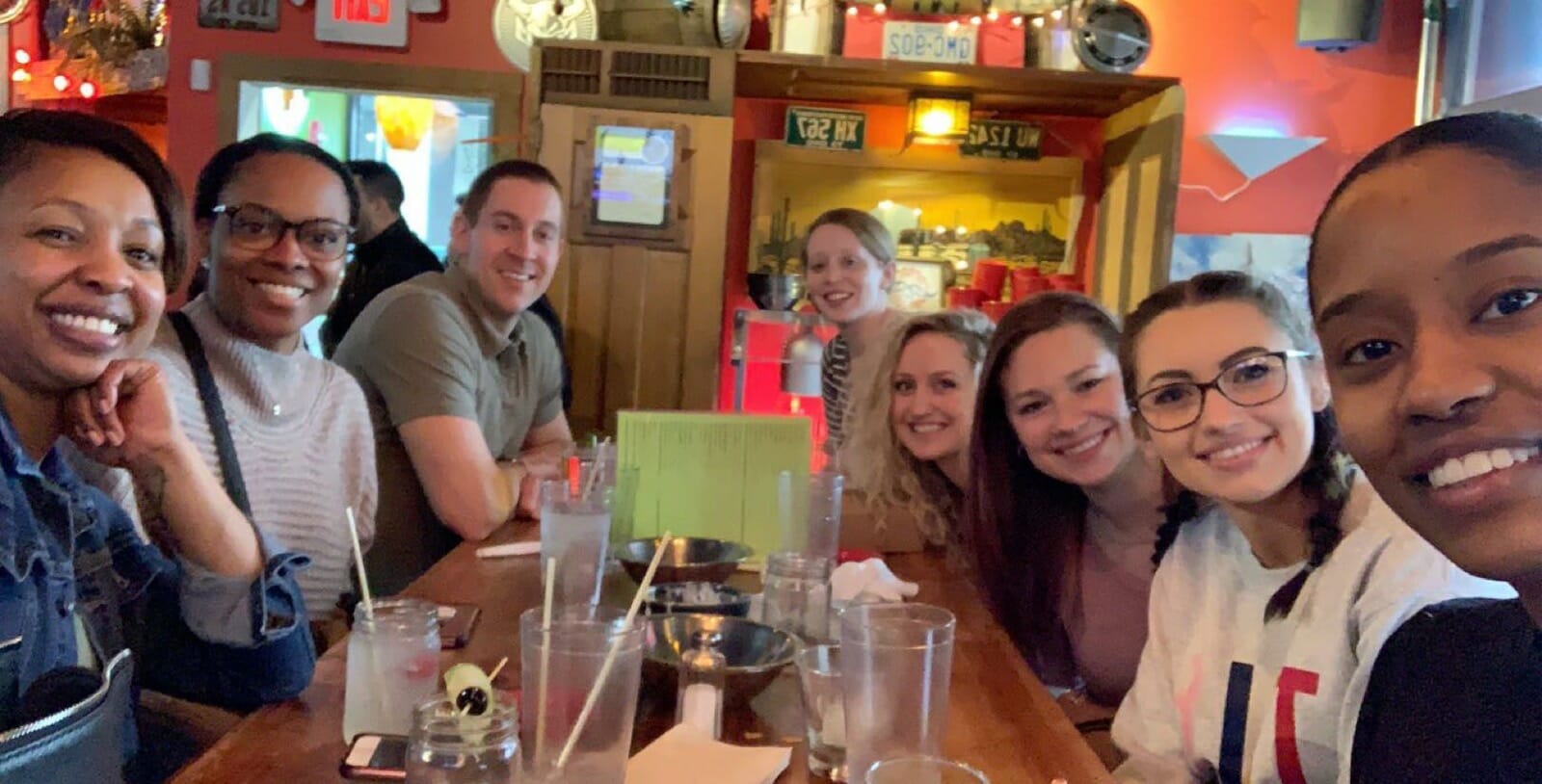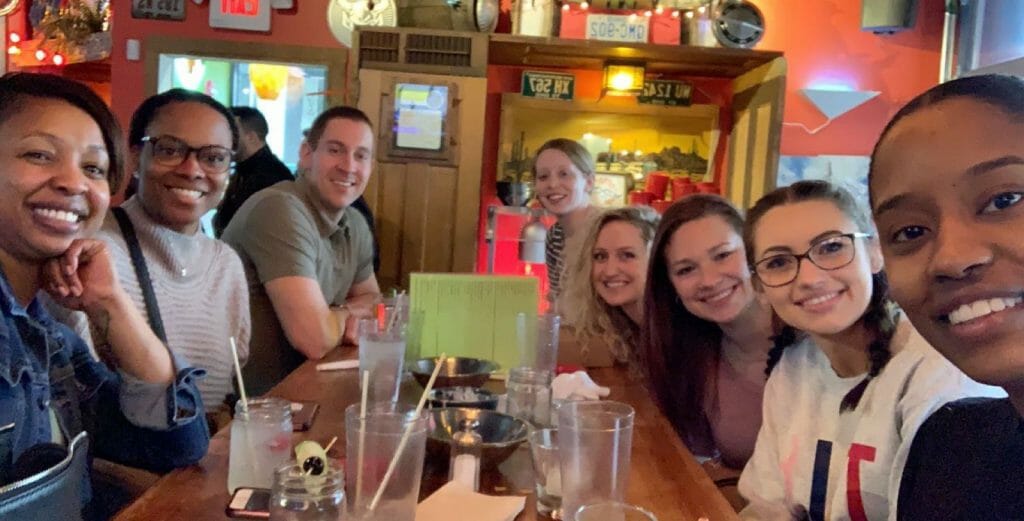 Last week we had our first Google Hangouts call – and after one of us figured how to unmute herself and another realized that speakerphone was more effective (new guys…) – we had a great chance to catch up and talk about some key items ahead. 
And this Thursday – we've planned (and committed to) a Team Google Hangouts workout! So stand by for those updates. 
What are we doing to prepare to reopen?
Much like we're proud of the measures we took early on to protect our patients, we're working behind the scenes with the ADA, ODA, our suppliers, contractors, IT company, and advisors to find out exactly what changes may need to be made once the world returns to normal. Whether that's new equipment, policies, structural changes, or anything else, we vow to find those answers and implement them to keep us all safer in this new post-COVID-19 world. 
Because we're all going to need to get back to work sometime soon. And we know that many of you have delayed appointments or not had the chance to get your needed work done. So next week, we'll be determining what changes – if any – need to be made so that MFD can get back to providing the great service and patient care you are all used to and so deserve. 
But we can't be all work and no play, right?!? So I've asked our Team to share with you all something from last week. Whether it's something they've learned, a funny story, or just an observation from this crazy new situation. 
In any situation, here are the personal updates from some of your friends at MFD!
Dr. Monica (Doctor and fearless leader) – I've realized that although there are a ton of difficult jobs out there – stay at home parents are the real saints. They have the toughest jobs… whew – excuse me, Stella's about to jump off the couch. 
Mike (Office Manager) – This week has been a crazy yin and yang. When do we ever have the opportunity to spend so much quality time with the people who matter the most to us??? In that respect, this week has been such a blessing. But at the same time, we've been forced to shut down our business and source of income, as well as the income source for everyone on our Team. While we definitely have a contingency plan, actually carrying it out and the uncertainty of what lies ahead can be a bit concerning. Also, we feel for all of those Ohioans who've been impacted by the Coronavirus. Bizarre – a great word to describe this week. 
Briana (Dental Assistant) – Getting caught up on laundry is a really good feeling! It's seriously the best! I love not having piles of laundry to do…
Ciera (Registered Dental Hygienist) – I'm really enjoying the chance to rest and reconnect. I had been waking up early to work at the gym (a side job) and then come into work at MFD but now I have the luxury to sleep in, and rest and reconnect with my hobbies and crafting. I've been reading my bible and have had a chance to start making wreaths with my friend again. Something we hadn't done in quite a while. 
Rachel (Expanded Function Dental Assistant) – SOOO many dishes!!! (She has 3 kids…)
We miss all of our wonderful patients! But we're enjoying the downtime and we're working extremely hard behind the scenes to make sure we're safely up and running soon! Until then – let us know if you enjoyed MFD's Weekly Quarantimes. As a friend of ours always says, "Feedback is the breakfast of champions!" so feel free to comment below. We're planning to bring the QuaranTimes to you weekly until we back up and running in the office. 
Thanks, all! Stay safe and talk soon!
-MFD