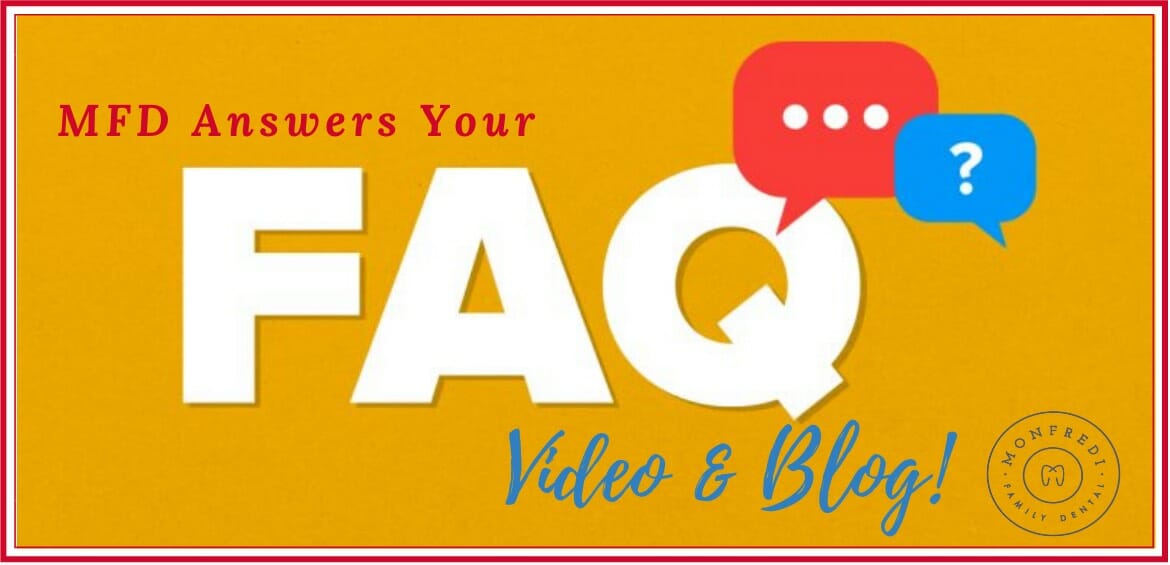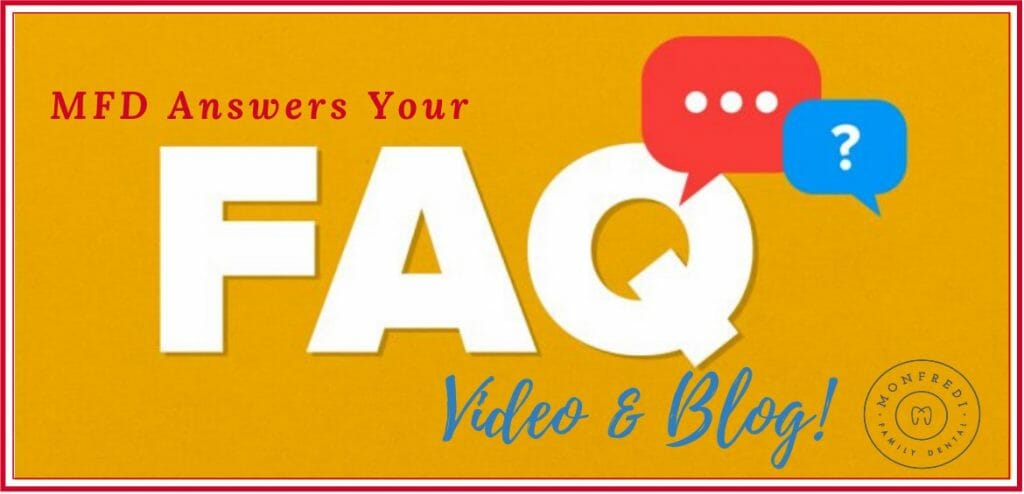 You asked – so here we are to answer! We've got Dr. Moinca, Edith, and Mike here to help provide answers to some of your most frequent dental FAQ questions! And don't worry, we've got videos and written answers below, so no matter your preference – you'll be able to hopefully learn some new tips and tricks to help brighten that smile!
Welcome to MFD's Dental FAQ page!
(And into our basement 'recording studio')
Will I need someone to drive me home after my procedure with you?
If you receive sedation in our office, yes you will need someone to accompany you for the visit and drive you home. But, for routine procedures such as cleanings, fillings, or crowns with local anesthesia, you are good to go – no additional driver required. 
Will the procedure affect my speech?
Speech is generally not affected by the majority of procedures with the exception of teeth removal & placement of full or partial dentures. Here, Dr. Monica gives you some tips in those cases.
Should I avoid certain foods after my procedure is done? 
If you are receiving anesthetic at your appointment, we recommend you have a bite to eat prior to your appointment, and then wait until the anesthetic has worn off before anything afterward. Misjudging food temperature may occur and can lead to hot food trauma. Additionally, we don't want you to take a bite out of your tongue or cheek.
If you are receiving a denture we recommend soft foods until you get used to the fit, then advancing to other foods.
When receiving whitening, anything that will stain a white shirt can stain your teeth. Avoid these items to get the best results from your whitening treatment.
I have a fear of the dentist, what can we do to help?
We recognize that having a fear of the dentist is definitely real and can be difficult to navigate. Fortunately, Dr. Monica doesn't look too intimidating – so hopefully that brings you some comfort.
We have some additional helpful tips as well. Some patients like to bring a blindfold to avoid seeing the instruments, while others bring headphones to listen to music. We offer nitrous oxide, or laughing gas, which can help reduce anxiety.
Welcome Edith to our dental FAQ recording booth!
Edith, one of MFD's RDHs (Registered Dental Hygienists), and host of our Teeth Time show, is here to help with answers to some of your additional dental FAQ questions! (We love acronyms here… Also, this video was recorded during our Quarantimes period – hence the 'casual' look – thanks for understanding 😉 )
How can I prevent tooth decay?
A combination of good nutrition, hygiene, and visiting your dental provider regularly will help to decrease the risk of cavities. Tooth decay primarily forms due to acid in the mouth. In order to reduce your risk, reduce the amount of acid that is consumed within your foods and beverages.
How early should I arrive for my first appointment? 
We typically request that you arrive about 15 minutes prior to your appointment so that we may update your information and confirm your insurance details before we start. Also, as a new patient, there are a few forms we will need you to fill out (those are located here – o aqui si necessitalas en Espanol). If you would like to save some time, you can find all of our new patient forms on our website and fill them out before.
How can I get my kids to brush their teeth?
The best way to get your child to 'comply' is to educate them on why we are doing it. Explain to them the importance of self-care and hygiene as it will make us feel better in the long run. We also recommend you make it fun by playing your child's favorite song and ensuring they brush for the entire duration. (Baby Shark, anyone…? – No… Us either)
How do I know what insurance coverage I have for my visit?
Fortunately we are in-network with the majority of dental insurances, however, there are a few outliers. We request your insurance information prior to your visit so that we may call your insurance company and find out the details of your plan. Additionally, we make it a priority to inform you of any out-of-pocket costs prior to your treatment.
How do I whiten my teeth? 
Practicing proper hygiene is the most important part of achieving a bright smile. Prevent stain from occurring initially by reducing stain producing agents such as coffee, tea, or chocolate milk (We know… We know). We recommend starting with a low-grade OTC or natural remedy for whitening. If you are seeking a more dramatic change, in-office whitening can yield results after just one visit – and we do offer products at MFD. Just give us a call if you're curious – 614-878-3636
How do I go about finding the right dentist for me? 
Take into consideration the ability of your provider. Confirm credentials like whether they're board-certified, or if they are an ODA or ADA member. From there, check out their reviews and explore the practice's website. You also have the option to go in and experience a visit or tour of the office. Feel out the vibe of the office and the patient experience.
If all that sounds daunting, simply call the office and ask some questions. Experience the interactions with the front desk. Take notes of how they answer your questions and if they seem joyful and happy or miserable and sad to be at work. That's normally a good indicator of the quality of the practice and business.
And, hey, if you're still struggling to find the right spot for you – we're here for you!
How do I know if I need a mouthguard?
Signs such as waking up with an achy jaw, restless sleep, wear of the teeth, and migration of the gum line may indicate the presence of clenching or grinding. A mouthguard may provide relief for you in these cases.
How much will my procedure cost?
Depending on the insurance company, there is an agreed fee of charge. The insurance will pay their contracted portion and the patient is responsible for the rest. At MFD we obtained a detailed breakdown of your insurance benefits, and inform you of your costs prior to the treatment. 
How do I know if I have gum disease? 
Gum disease lies on a spectrum with varying severities and extents. Bleeding gums, achy gums, an odor of the mouth, and loose teeth are common signs of gum disease.